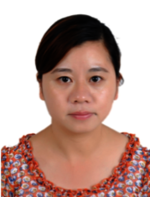 濮小英(Pu, Xiao-Ying),女,博士, 1976年7月出生于浙江德清

杭州师范大学医学院教授,硕士生导师
联系方式

杭州师范大学医学院免疫学与病原生物教研室
电话: 0571-2886-5666
Email: pxygym@126.com
教育背景
博士:微生物学,浙江大学,2004
学士:生物技术,浙江大学,1999
专业和研究方向
所从事的专业为微生物学。研究方向主要为病原微生物变异与耐药。
主要工作简历
2004年获浙江大学微生物学博士学位。2004.7-2016.9在杭州市疾病预防控制中心工作,担任微生物检验科副科长,2014年11月晋升主任技师(正高)。2016年9月调入杭州师范大学医学院,2010年3月至11月美国爱荷华州立大学(Iowa State university)访问学者。曾获第十届杭州市青年科技奖,浙江省预防医学会"优秀青年会员",浙江省卫生应急工作先进个人等荣誉称号。入选浙江省"151"人才工程第二层次培养人选、浙江省医坛新秀、杭州市"131"第二层次培养人选等人才计划。主持国家自然基金委、浙江省自然基金委等各类项目7项,主持项目获浙江省医药卫生科技奖二等奖一项、三等奖二项,杭州市科技进步奖二等奖一项、三等奖二项,在国内外杂志发表论文40余篇。
代表性论著(* corresponding author, †Contributed equally to this work )
[1] Pu XY*, Gu YM, Li J, Lu Z. (2018) Characterization of the complete sequences and stability of plasmids carrying the genes aac(6′)-Ib-cr or qnrS in Shigella flexneri in the Hangzhou area of China. World Journal of Microbiology Biotechnology 72:1-13.
[2] Pu XY*, Pan JC, Gu YM, Zheng W, Li J, Yu, H. (2016) Complete sequences and characterization of two novel plasmids carrying aac(6')-Ib-cr and qnrS gene in Shigella flexneri. Microbial Drug Resistance 22: 115-22.
[3] Pu XY*, Pan JC, Zhang W, Zheng W, Wang HQ, Gu YM. (2015) Quinolone resistance-determining region mutations and the plasmid-mediated quinolone resistance gene qnrS played important roles in decreased susceptibility to fluoroquinolones among Shigella isolates in southeast China between 1998 and 2013. International Journal of Antimicrobial Agents 45:438–39.
[4]Pu XY, Gu Y*, Wang X. (2019) Provider payment to primary care physicians in China: Background, challenges and a reform framework. Primary Health Care Research & Development 20(e34): 1–7.
[5] Pu XY*, Zhang Q , Pan JC, Shen Z, Zhang W. (2013) Spontaneous mutation frequency and molecular mechanisms of Shigella flexneri fluoroquinolone resistance under antibiotic selective stress. World Journal of Microbiology Biotechnology 29(2):365-71.
[6] Pu XY*, Pan JC, Wang HQ, Zhang W, Huang ZC, Gu YM. (2009) Characterization of fluoroquinolone-resistant Shigella flexneri in Hangzhou area of China. Journal of Antimicrobial Chemotherapy 63: 917 – 920.
[7] Li J†, Yu XF†, Pu XY†, Xie L†, Sun YX†,, Xiao HX, Wang FJ, Din H, Wu Y, Liu D, Zhao GQ, Liu Jun*, Pan JC*. (2013) Environmental connections of novel avian-origin H7N9 influenza virus infection and virus adaptation to the human. SCIENCE CHINA Life Sciences 56(6):5-492.
[8] Yu XF†, Jin T†, Cui YJ†, Pu XY†, Li J†, Xu J, Liu Guang, Jia H, Liu D, Song S, Yu Y, et al. (2014) Influenza H7N9 and H9N2 viruses: Coexistence of influenza H7N9 and H9N2 in poultry linked to human H7N9 infection and their genome characteristics. Journal of Virology 88(6):3423-3431.
[9] Shen Z, Pu XY, Zhang Q. (2011) Salicylate Functions as an Efflux Pump Inducer and Promotes the Emergence of Fluoroquinolone-Resistant Campylobacter jejuni Mutants. Applied and Environmental Microbiology 77(20):7128-7133.
[10] Li J, Yu X, Pu X, Yang X, Kou Y, Zhou,Y, Qian X, Xie L, Pan JC*. (2015) The diversity of avian influenza virus subtypes in live poultry markets before and during the second wave of A (H7N9) infections in Hangzhou, China. Emerging Microbes and Infections 4:1-3.