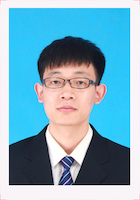 毛剑,男,博士,1988年11月出生于天津
杭州师范大学医学院副研究员
联系方式
杭州师范大学医学院衰老研究所
电话: 0571-2886-1641
Email: maojian@hznu.edu.cn
教育背景
博士:细胞生物学,南开大学,2017
学士:生物技术,南开大学,2011
专业和研究方向
所从事的专业为细胞生物学,研究方向为内源性逆转录病毒在衰老与癌变中的作用及机制。
主要工作简历
2011年毕业于南开大学生命科学学院生物技术专业,获理学学士学位,2017年毕业于南开大学生命科学学院细胞生物学专业,获理学博士学位。现为杭州师范大学医学院衰老研究所副研究员。在Stem cell reports、Stem cells and development等期刊发表多篇研究论文,参与国家重点基础研究发展计划(973计划)、国家自然科学基金重点项目、面上项目等多个项目的研究。
代表性论著(#co-first authors, *corresponding authors)
[1] Mao J, Zhang Q, Deng W, Wang H, Liu K, Fu H, Zhao Q, Wang X, Liu L* (2017) Epigenetic Modifiers Facilitate Induction and Pluripotency of Porcine iPSCs. Stem Cell Reports. 10;8(1):11-20.
[2] Mao J, Zhang Q, Ye X, Liu K, Liu L* (2014) Efficient induction of pluripotent stem cells from granulosa cells by Oct4 and Sox2. Stem Cells Dev. 23(7):779-89.
[3] Mao J, Liu L* (2016) Generation of iPS Cells from Granulosa Cells. Methods Mol Biol. 1357:451-64.
[4] Liu K#, Mao J#, Song L, Fan A, Zhang S, Wang J, Fan N, Liu N, Ye X, Fu H, Zhou Z, Wang Y, Wei H, Liu Z, Li Z, Lai L, Wang X*, Liu L* (2017) DNA repair and replication links to pluripotency and differentiation capacity of pig iPS cells. PLoS One. 12(3):e0173047.
[5] Zhang Q, Liu N, Bai J, Zhou Q, Mao J, Xu L, Liu J, Wei H, Ren C, Wu X, Wang M, Zhao B*, Cong YS* (2020) Human telomerase reverse transcriptase is a novel target of Hippo-YAP pathway. FASEB J. 34(3):4178-4188.
[6] Zhang Q, Mao J, Zhang X, Fu H, Xia S, Yin Z, Liu L* (2016) Role of Jnk1 in development of neural precursors revealed by iPSC modeling. Oncotarget. 7(38):60919-60928.
[7] Zhang Q, Dan J, Wang H, Guo R, Mao J, Fu H, Wei X, Liu L* (2016) Tcstv1 and Tcstv3 elongate telomeres of mouse ES cells. Sci Rep. 6:19852.
[8] Kong Q#, Ji G#, Xie B, Li J, Mao J, Wang J, Liu S, Liu L*, Liu Z* (2014) Telomere elongation facilitated by trichostatin a in cloned embryos and pigs by somatic cell nuclear transfer. Stem Cell Rev Rep. 10(3):399-407.
[9] Yuan J#, Zhang D#, Wang L#, Liu M, Mao J, Yin Y, Ye X, Liu N, Han J, Gao Y, Cheng T, Keefe DL, Liu L* (2013) No evidence for neo-oogenesis may link to ovarian senescence in adult monkey. Stem Cells. 31(11):2538-50.
[10] Liu K, Ji G, Mao J, Liu M, Wang L, Chen C, Liu L* (2012) Generation of porcine-induced pluripotent stem cells by using OCT4 and KLF4 porcine factors. Cell Reprogram. 14(6):505-13.